It's no secret that the world of work has changed in the past year. Bedrooms have become offices. Parents have become teachers. And 'I think you're on mute' has become a staple catchphrase of every meeting.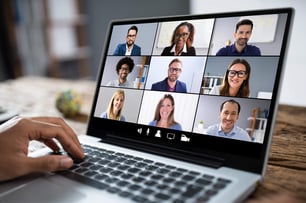 More than ever, we've relied on technology to adapt – both professionally and personally. But, as the global vaccine rollout presses on, and life begins returning to some semblance of normality, the technology that enabled us to adapt quickly back in 2020 is unlikely to be enough to keep businesses moving in the 'new normal'.
Of course, for leading HR professionals, the 'new normal' isn't just a matter of more people working from home.
Increasingly, employees expect their health and wellbeing to be cared for – with many having suffered mental health difficulties during lockdown. With issues around race, gender and other forms of discrimination also being put under the spotlight over the past year, there's an increasing onus on businesses to place diversity and inclusion firmly at the top of the agenda.
Having the right tools in place could prove crucial to successfully adapting to the post-pandemic world of work. Here are four ways technology can help your business to evolve and adapt in the 'new normal'.
1. Become More Flexible

Post-pandemic, the ability to offer employees flexibility will be the hallmark of a good employer – and those that resist flexible working may struggle to attract and retain top talent.

But flexibility must be balanced against visibility into who's working, when and where. Otherwise, you're likely to see collaboration, communication and compliance with the Working Time Directive become extremely challenging.

With the right HR tools, you can empower your people to work in whatever way suits them best, whilst keeping communication channels open.

Eppione's HR platform was designed to support employers and employees to embrace flexibility in a way that helps businesses operate efficiently and effectively. Employees can easily request to work from home and, with a simple dashboard, instantly see who is working each day and whether they're at home, in the office or on a business trip.

Using the new mobile app, employees can access their information from anywhere. They can even clock-in, submit and accept shift swap requests, book annual leave, and manage their timesheets and working schedule on-the-go.

The latest updates also empower HR and senior leadership to identify key workforce trends, with a powerful business intelligence tool to quickly and effectively run reports to understand how many hours are being worked, or how many people are choosing to work from home.
2.
Support Employee Wellbeing
In the past 12 months, more focus has been put on employee wellbeing than ever before. With 78% of workers reporting that the pandemic has negatively impacted their mental health, many organisations have recognised the crucial role they have in supporting employees through the pandemic.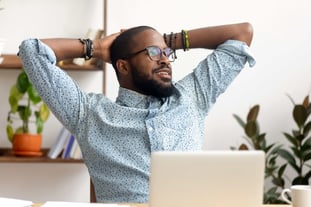 But with 76% of workers globally saying their employers should do more to support their mental health, there's clearly still work to be done. The focus on employee wellbeing isn't going away – and nor should it. After the pandemic, employees will still need continued support to maintain both their mental wellbeing and physical health.
Often, employers will offer a range of employee benefits to support their workforce's wellbeing – such as employee assistance programmes, health insurance or financial wellbeing sessions. But if your employees aren't aware of the benefits available, or don't have the flexibility to select the ones that are right for them, your benefits uptake could be limited.
Research shows that 20% of employees only receive information about their benefits when they first join the organisation. To get the most value from your benefits investment, you need to provide employees with continuous access to their benefits information – including which benefits they're already signed up for, what other benefits are available, and how much they and the company are contributing.
Eppione brings HR and employee benefits together into one easy-to-use platform. Not only can employees easily see what benefits are available to them – they can also select and amend their benefits, review the full cost of each one, and get instant visibility into their Total Rewards Statement. HR teams are granted in-depth visibility into which benefits are being used, so you can ensure your budget is only being spent on services that your employees find valuable.
3. Streamline Your Admin

Making HR processes more efficient is nothing new – but in the post-pandemic workplace, it could prove essential.

Not only do HR teams face several challenges in the months ahead, but many have also seen their resources depleted throughout the pandemic. By automating processes where possible, and giving your employees more autonomy where appropriate, you can free up more time to focus on what really matters: your people, and your HR strategy.

There are many HRIS tools available to help you reduce the time and resource of managing day-to-day HR admin. However, some are far more advanced and effective than others, and it's important you find the right fit for your unique organisation.

Eppione 2.0. empowers HR teams to drastically reduce the time taken up by admin tasks. While employees are granted autonomy to book annual leave, report sickness, update personal information, view and select benefits and more, the platform also features a number of automated reminders and reports.

For example, if you have a new policy that needs communicating, you simply need to upload it into the system. Employees are instantly notified of the new document and receive automated reminders, while HR admins can instantly check the read/unread status for each employee. So, you can communicate more efficiently, while maintaining records of who has or has not read the new policy.
4. Understand Your Workforce

Of course, you can't adapt to the changing world of work if you don't truly understand the ways in which your unique workforce is evolving.

Even if you felt confident in your understanding of your workforce trends, habits and demographics prior to the pandemic, you can't rely on this knowledge in the post-pandemic world. Your employees' priorities and personal circumstances are likely to have changed beyond recognition in the past 12 months – so, the chances are you'll need to re-learn who your employees are and what they care about.

But it's not just about understanding the impacts of the pandemic. With focus increasingly being placed on diversity and inclusion, it's imperative you understand the specifics of your workforce demographics. This might be simple enough if you only have 30 employees, but for mid-sized businesses or larger organisations, this can be a complex undertaking – particularly if you have a high employee turnover rate.

In fact, understanding your gender diversity and Gender Pay Gap will soon become a legal requirement in many countries. While the deadline to accommodate Gender Pay Gap reporting has been delayed due to the pandemic, the sooner you implement the right processes, the better.

To empower businesses to understand their workforce better than ever before, Eppione 2.0. features a fully integrated, powerful business intelligence tool. Using 360 cube technology, you can easily create advanced reports based on the data in the HRIS. There's even a base-level dashboard, so you can get an instant snapshot of your key workforce data and analytics.

To help make repeat reporting even simpler, you can set up standard reports and easily run them as and when they are needed. So, if you want to know how many people were off sick with COVID-19 symptoms each month, or how many days of annual leave have been taken, you can access the exact data you need at the click of a button.

From Gender Pay Gap reporting and workforce demographics, to working patterns and employee benefits uptake, Eppione 2.0.'s business intelligence tool can help you understand almost anything about your unique, changing workforce.
More Than Just a HRIS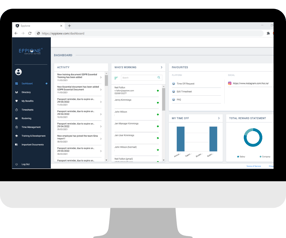 Eppione 2.0. was designed to support businesses now and into the future. Our cloud-based platform is fully scalable, supporting you every step of the way as your business grows and evolves.
At Eppione, we want to make your life easier. That's why we've made implementation as simple as possible. Our dedicated support team will not only help you to get set up on the platform at no extra charge – they'll stay with you for as long as you're using the Eppione platform. We don't use call centres; in fact, you'll get a dedicated account manager, who'll be on-hand to answer any questions and offer any support you may need.
Get in touch with our friendly team today and book your virtual, no-obligation demo!